Vendor Portal is a web-based solution that provides permission-based access to vendors for real-time information about their purchase orders, shipment statuses, open invoices, payment history, inventory supply, and more from any device (iPhone, iPad, Android, and more).
Complete the form to test drive Vendor Portal.
Get a hands-on look at what your vendors would see. Use the login information provided on the screen and get instant access to experience the power of Vendor Portal first-hand.
Check on item statuses, view A/P invoices, open purchase orders, and view overdue shipments. See how this powerful solution can help answer your vendors' everyday questions as you explore the test version of Vendor Portal.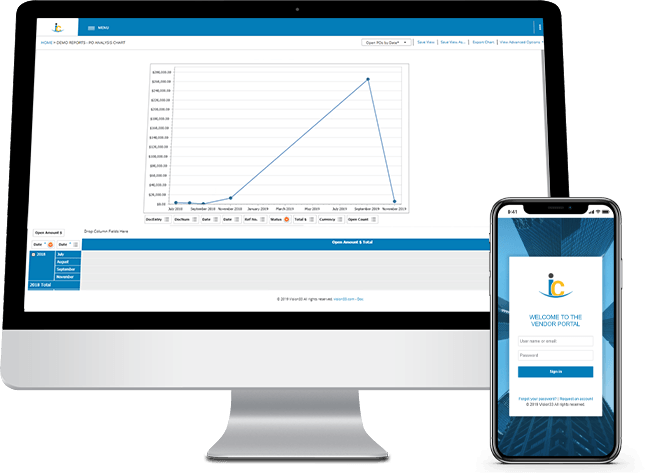 Empower your Vendors with Secure Access to Company Data.
Vendor Portal pulls custom query report data from SAP Business One so that companies can share key information externally with their vendors. Vendor Portal helps strengthen relationships across the supply chain by:
Enabling vendors to access real-time data pulled directly from SAP Business One
Making it easier for vendors to find the information they need with advanced filter builders
Customizing vendor views with drag and drop layouts so that vendors only see the data they use on a day to day basis on their dashboard
Allowing companies to assign user roles so that they can control what information their vendors have access to
Streamlining the end-to-end procurement process with real-time workflow and tracking data in SAP Business One
Contact us if you have any additional questions about Vendor Portal or if you would like a representative from Vision33 to walk through the test drive with you.