Fast growing medical device companies like yours need systems and processes in place to help manage and streamline daily operations. The competitive landscape of the industry, and the regulatory requirements that have to be met, are just some of the challenges that you must effectively manage. Having the right technology in place can help you not only better manage your day to day tasks, but also help avoid those common challenges and obstacles.
Dr. Joseph V. Gulfo, MD, MBA, CEO of Breakthrough Medical Innovations, recently led a webinar based on the challenges medical device companies face when scaling, and the key reasons they should implement an ERP solution. This eBook is a summary of Dr. Gulfo's webinar, and covers the reasons you should implement ERP early on - prior to the growth phase.
Download the eBook and learn how with the right ERP solution in place, you can streamline your business processes, better manage FDA and MHRA requirements, and provide the necessary control and documentation for your business.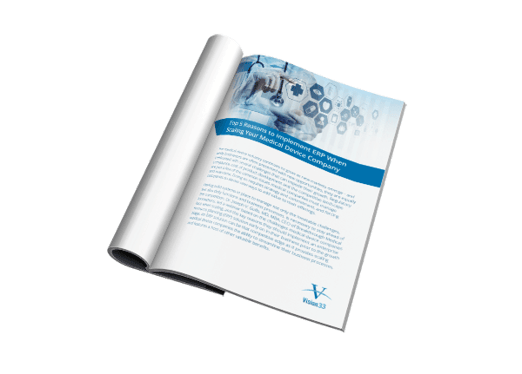 After reading the eBook download Vision33's free Enterprise Resource Planning (ERP) Information Kit by filling out the form to the right. Access Vision33's most popular business management resources to get the answers you need to take the next step forward.