Steep overhead costs. Poor inventory control. Tough competition. With challenges such as these, it's no wonder that running a manufacturing business is becoming increasingly challenging more than ever before. As a business owner, you need to tackle all these challenges so that your business is sustainable and continues to grow profitably.
SAP Business One for Manufacturing
An ERP solution, like SAP Business One, can help you address all these growing business pain points and scale your business for growth. With SAP Business One for manufacturing, you can better plan and execute projects by tracking suppliers, materials and production costs, and supporting vendor relationships from one location.
In addition, SAP Business One streamlines and automates your core processes, enhances supply chain visibility, and ensures regulatory compliance. It also includes:
Process Manufacturing
Seamlessly aggregate data from disparate sources into accessible forms
Discrete Manufacturing
Less complexity, more flexibility, transparency, and efficiency
Warehouse Management
Minimizing material movements, optimizing labor resources, and tightly integrating warehouse activities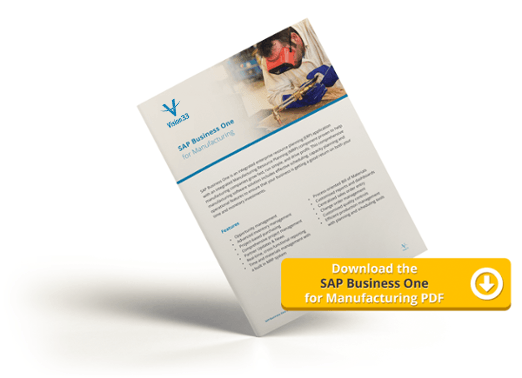 Complete the form to download the SAP Business One for Manufacturing product guide. Learn how manufacturers like you can benefit from a flexible and tightly-integrated business process that is perfectly adapted to your specific requirements.


To learn more about SAP Business One for Manufacturing, visit our website.