Would you like to provide more value to your clients that may be searching or in need of an ERP solution? Learn how you can help them by adding an ERP assessment to their game plan through an online webinar on Thursday, March 9th at 1:00pm EST (10:00am PST).

Presented by ERP expert, Carl Lewis, this webinar will allow you to provide your current, and future clients with the information they need to select an ERP solution that will offer true value to their business. Carl Lewis is one of the most respected advisors in the ERP industry. His experience and knowledge working with clients and software publishers has made him the "go to" resource for educating the industry worldwide.
You'll receive training in various areas, such as:
Identifying Resources Needed – learn strategies to effectively evaluate what internal resources are required to properly evaluate a client's requirements.
Focus on the Pain - learn how to assess your clients pains and prioritize critical business issues that need to be solved with a new ERP system.
Focus on Your Customer's Customer - develop strategies to help companies target the benefits that will deliver the greatest ROI for the company.
Achieve Consensus – Learn how to gain consensus among employees who will be responsible for implementing and running the system.
A Consultants Role – Learn how as a consultant you can best position yourself to help your client through the evaluation and implementation process. Become a trusted resource by supporting your client.
Reserve your spot while there's still time. The webinar takes place on March 9th, 2017, 1:00pm EST (10:00am PST) and requires no registration fee.
You'll gain valuable insight into how you can help your clients assess their needs, develop strategies to determine the best ROI, and learn tactics for balancing their "wish list" with the company's business issues and resources.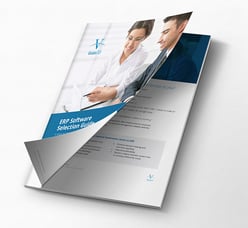 Attendees will also receive a free copy of the
ERP Selection Guide e-Book to keep.
Attendance is limited. Please complete the form to secure your spot!